Lessons and Courses
Whether you want to dive deep into a specific topic through a course or receive personalised face to face or Zoom lessons- Rock Guitar Lessons has you covered!
Improve your playing with courses on lead guitar, technique, theory and rhythm guitar. Courses offer in depth information on specific topics and provide guaranteed results across short time frames. They're perfect for people who want to improve on a certain topic or want to learn but don't want to commit to ongoing private lessons.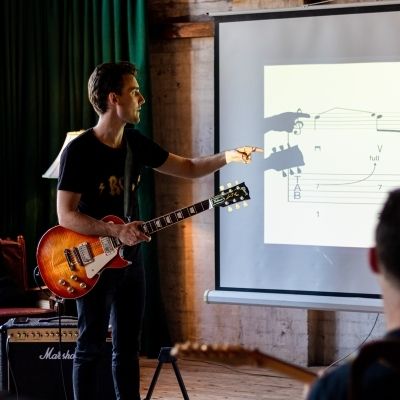 Lessons in Brunswick & Coburg North
Improve your playing with personalised private lessons in Brunswick or Coburg North. If you're interested in private lessons – you're eligible for a FREE trial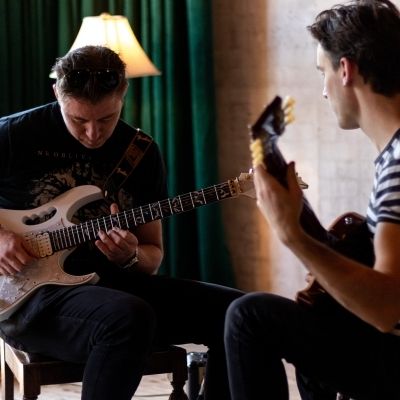 Improve your playing from the comfort of your own home anywhere in Australia with Zoom lessons. If you're interested in Zoom lessons – you're eligible for a FREE trial Learn more.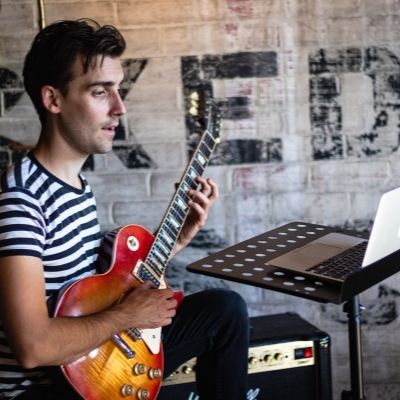 Our Most Requested Services
Con
"I'd certainly recommend Dean to any other guitarist, I've found Dean to be a great, patient teacher. He never get's upset, he takes his time with you and understands that you need time as well. I've found his patience excellent."
Joe
"The thing I like about lessons with Dean is I walk away from every lesson with a clearly outlined goal for what I need to practice both creatively and technically. I would recommend Dean's lessons to any rock guitarist who is looking for a great teacher to help find their voice as a musician."
Andrew
"Since starting lessons with Dean I've become much better at using my little finger, I'm feeling much more in control of playing cleanly, I'm much more comfortable playing across the whole neck and my synchronisation is consistently improving." 
Ben
"Since taking guitar lessons with Dean my playing has definitely improved in all technical aspects, my vibrato has improved and my hand positing and awareness of how I'm playing."
Am I too old to learn or improve?
You're never too old to learn guitar or improve your existing ability, I'm not sure why people think this. Some of my best students have been people who were worried they were too old. A lot of people think I'm spending most of my time teaching hot headed 16 year olds how to solo, that's not the case at all. Most of my students are between the ages of 35 and 55.
Can I take a course without any existing playing ability?
It all depends on the course. Some of the courses require a certain amount of playing ability, others don't. The best thing to do is get in touch with me, let me know which course you're intersted in and we'll have a chat about the content of the course and whether or not it might be something you can handle.
Do you teach beginners?
Yes. Just because I specialise in advanced styles doesn't mean I don't teach beginners. In fact, some of my students have been with me since the beginner stage, now they're playing solos and improvising. If you feel I'd be the best teacher for you, it doesn't matter whether you've been playing for years or have just started – I'd love to hear from you!
Can you teach me how to improvise?
Absolutely. A great deal of my students come to me with learning to improvise as their main playing goal. Teaching people to improvise is one of the things I do best, I've helped a lot of people develop the ability to improvise guitar solos and I'm sure I can help you do the same. In fact, I run a course that focuses exclusively on improvising.
Got any questions regarding courses and lessons?
I'd love to  hear from you!