Online Guitar Lessons
Online guitar lessons via Zoom are one of my most requested services. Zoom lessons allow you to learn from the comfort of your own home from anywhere in Australia. Most of my Zoom students live in Melbourne but choose Zoom lessons for the convenience because they'd prefer not to travel. Zoom lessons also suit people who live in regional or rural parts of Australia where lesson options are minimal or non-existent.
Zoom lessons are simple. All you need to do is download Zoom, make a profile, open the Zoom lesson link I'll send you when it's time for your lesson and it will take you straight to the lesson. It's that easy.

 

You don't need any fancy equipment for a Zoom lesson. All you need is a laptop, tablet or desktop computer. You can use your phone if you want but it's probably a better idea to use something with a larger screen so you can see me better. You can use an external webcam if you want but most of my students use the webcam on their laptop. I like to use headphones during Zoom lessons so I can hear everything better, but you'll be able to hear just fine without them.

 

A lot of people assume Zoom lessons wouldn't be as good as face to face lessons. For the doubters out there, let me tell you I teach and demonstrate the EXACT same material in a Zoom lesson that I do in a face to face lesson. I can even put my hands right up to the camera to demonstrate things. As well as that, I record every Zoom lesson and send you a copy when we're finished so you can go back over the lesson and see and hear every demonstration and explanation as many times as you want.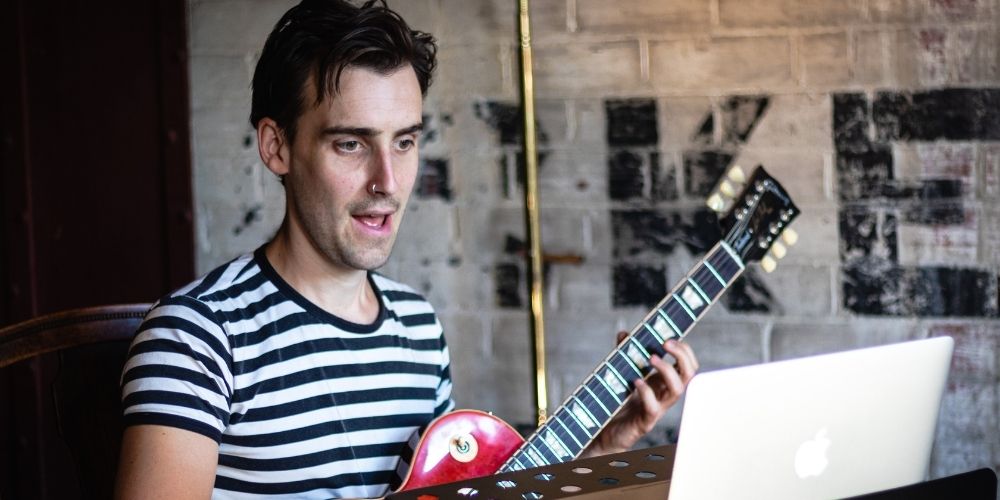 During the Covid lockdowns all my face to face students converted to Zoom lessons. Once I was able to go back to face to face lessons the majority of my students told me they want to stay on with Zoom. When I asked why they said they feel they're pretty much the same as face to face lessons, they like receiving the video recording and find them a lot more convenient because they don't have to travel. This includes some students who were really sceptical to try Zoom.
 If you're interested in Zoom lessons then you're eligible for a FREE trial. This trial will not only give you an idea of how lessons work so you can make a risk free decision about whether you'd like to go ahead with them or not. But it will also give me the opportunity to see you play, hear you play and get an idea of what we need to work on in order for you to become the guitar player you want to be.
 If you'd like to book a FREE trial then fill out the form here. When I receive it I'll give you a call to chat a bit about your guitar playing, the lesson prices and formats and the playing goals you want to achieve. I'm looking forward to hearing from you soon.
Got any questions regarding courses and lessons?
I'd love to  hear from you!